In memoriam:
Dr. Paul Scheips, 1914-2002
by Rebecca Robbins Raines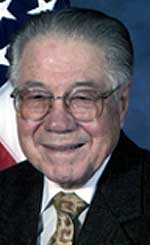 The Signal Regiment lost one of its most distinguished citizens with the death of Dr. Paul Scheips Sept. 29, just a few weeks before his 88th birthday. Scheips is perhaps best known for his landmark study of the life and career of Albert James Myer, father of the U.S. Army Signal Corps. With this work, which he completed as his doctoral dissertation, and his many other studies on various aspects of Signal history, Scheips laid the foundation for current scholarship on the Signal Corps. We all owe him a tremendous debt of gratitude.
Scheips was a superb historian, but he was much more than that. He was a gentleman and a scholar in the truest sense of those words. He was a man of great compassion and deep conviction, with an unyielding dedication to truth and accuracy. Yet as a colleague and mentor, he was unfailingly generous with his time and the fruits of his labors. He was never too busy to discuss works in progress with other historians and always had many suggestions for further research. He graciously lent volumes from his vast library and frequently shared items of interest that had come to his attention. He never stopped learning and remained intellectually vigorous to the end of his life.
Scheips was a native of Peru, Ind., and received his undergraduate education at Evansville College (now the University of Evansville). He earned his master's degree from the University of Chicago in 1949 and his doctorate from The American University in 1966. Early in his career, he taught at the University of Michigan and Denison University. Though he eventually left the classroom to become a civil servant, he never stopped teaching. In 1952 he joined the Signal Corps Historical Division, where he spent the next 10 years. There he authored a number of studies and participated in the celebration of the Signal Corps' centennial in 1960.
With the closure of the Signal Corps' history office in 1962, Scheips joined the staff of the Office of the Chief of Military History in Washington, D.C. (now known as the U.S. Army Center of Military History). As a member of its Histories Division, he produced a wide array of studies and contributed to many of the center's publications, including American Military History (1973) and Department of the Army Annual Historical Summary, 1981. His name can be found in the acknowledgments of many authors to whose works he lent his expertise.
Although Scheips retired in 1986, he remained actively engaged in scholarly pursuits. He continued his long-standing relationship with Fort Gordon, Ga., where he was a frequent and popular lecturer. At the time of his death, he was working on the third volume in the U.S. Army Military History Center's series on the Army and its use during civil disturbances. This volume, The Role of Federal Forces in Domestic Disorders, 1950-1990, is scheduled for publication during the coming year.
While Scheips is most closely associated with Myer, he was also responsible for rescuing the papers of another prominent Chief Signal Officer, MG Adolphus Greely. He discovered the documents in the attic of Greely's daughter's house in New Hampshire, where they were in imminent danger of being irreparably damaged and lost. Scheips was instrumental in arranging the donation of the Greely collection to the Library of Congress, where it now resides in the Manuscripts Division.
Scheips was an active participant in a wide variety of professional organizations, including the American Historical Association, the Society for Military History, the National Council on Public History, the Society for History in the Federal Government and the Western Historical Association. In addition to his abiding interest in the Signal Corps, he researched and wrote extensively on a number of subjects, among them the history of the Panama Canal, civil-military relations and the American West.
In recognition of his pivotal role in preserving and documenting the Signal Corps' history, Scheips received the Silver Order of Mercury from the Signal Corps Regimental Association, a private organization that supports the Signal Regiment. In 1998 he was designated a Distinguished Member of the Signal Regiment.
Scheips and his wife, Alice Cole Scheips, enjoyed traveling, especially with fellow members of the Cosmos Club. He was a proud member of this organization, which has been a gathering place for Washington's intellectuals for more than a century. He contributed many fine articles to its bulletin, specializing in profiles of former members, such as Greely. It was a special treat to join the Scheips for a meal in the club's beautiful dining room to enjoy an unforgettable combination of delicious food, congenial company and stimulating conversation.
Those who were fortunate enough to have known Paul Scheips will always remember him with the greatest fondness and admiration. With his passing, we've lost a dear friend and the Signal Corps a true champion. His absence will be deeply felt, but he has left us much to remember him by.
Ms. Raines is chief of the Force Structure and Unit History Branch, U.S. Army Center of Military History, Washington, D.C. Scheips served as her mentor at the center and provided invaluable assistance and encouragement for her volume, Getting the Message Through: A Branch History of the U.S. Army Signal Corps (1996). Most recently she was collaborating with Scheips on a full-length biography of Myer.
Select bibliography of works by Paul J. Scheips
Albert James Myer, Founder of the Army Signal Corps: A Biographical Study, Ph.D. dissertation, The American University, 1966.
"Albert James Myer, an Army Doctor in Texas, 1854-1857," Southwestern Historical Quarterly 82, July 1978.
"Hold the Fort! The Story of a Song from the Sawdust Trail to the Picket Line," Smithsonian Studies in History and Technology, No. 9, Washington, D.C.: Smithsonian Institution Press, 1971. Relates the history of a gospel song inspired by signaling at the Battle of Allatoona in 1864 that later became an anthem of the labor movement.
Military Signal Communications, two volumes, New York: Arno Press, 1980. An anthology of significant readings on the history of signal communications.
"Old Probabilities: A.J. Myer and the Signal Corps Weather Service," Arlington Historical Magazine 5, October 1974.
"Signal Corps Orange," Military Affairs 2, Fall 1957.
"Signaling at Port Hudson," Civil War History 2, December 1956.
"Union Signal Communications: Innovation and Conflict," Civil War History 9, December 1963.
Will Croft Barnes, a Westerner of Parts, Washington, D.C.: Potomac Corral, The Westerners, 1981. Barnes is one of the Signal Corps' five Medal of Honor winners.
"Will Croft Barnes, Soldier and Citizen of Arizona," Arizona and the West 2, Autumn