STEAM COMES TO THE HARBOR
In 1813 the first steam boat on the Chesapeake Bay was destined to change maritime life drastically. Vessels propelled by engines permitted cargo such as coal, lumber and livestock to move at prescheduled times. Gradually these vessels were developed to carry passengers.
TUG BALTIMORE DOES HER JOB
The Skinner Shipbuilding and Dry Dock Company launched the tug "BALTIMORE" in 1906. Until 1963 she was used to tour visitor, move pile drivers, barges and break ice.
She sank in 1979 in fifteen feet of water and was subsequently donated to a local museum who raised her from the depths in 1981.
Incredible progress has been made in the restoration of the tug due to the cooperation of dedicated volunteers and generous business and civic minded organizations. She steamed again in November of 1985, but much work is yet needed upon her hull.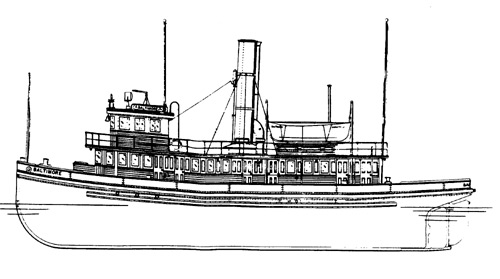 KEY DATES IN HISTORY

1906 ~ SEA TRIAL (Dec,8th)
1922 ~ Boiler Replaced
1947 ~ Machinery rebuilt, new electrical system and search light added
1957 ~ Converted to oil burning vessel
1963 ~ Sold to Mr. S. F. DuPont
1981 ~ Donated to local Baltimore museum and converted back to her original coal burning state
---
This webpage donated by The Signal Corps Association 1860 ~ 1865

Read about the Signal Corps signalling from Tug Boats